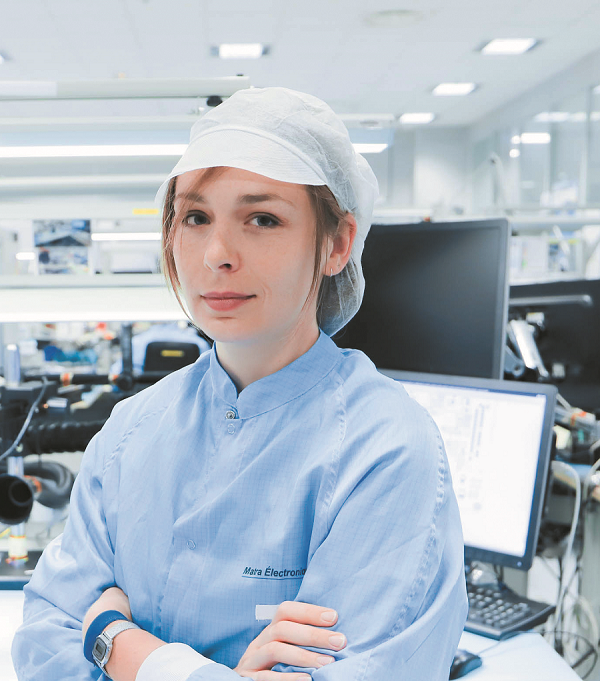 PROMOTING THE FEMINIZATION OF INDUSTRY
| | | |
| --- | --- | --- |
| |   | "Women have a lot to contribute to industry. Unfortunately, there are few candidates for recruitment." Cécile Mathieu, Director of Human Resources. |
As a responsible employer, Matra Électronique is committed to promoting the place of women in the industry through an inclusive communication campaign that aims to:
Modernize the image of the sector, still too often perceived as a male environment;
Engage our employees in the representation of their professions;
Fight the stereotypes of so-called "men's" professions.
As part of Industry Week, we are proud to see our technical professions represented by women mobilized to change the image of the industry and promote the sector. We would like to thank Mathilde, Marie-Line, Manon, Cécile, Lucie, Perrine, Léa and Jennifer for their involvement in the process.
In addition to this call for job applications, Matra Electronic also promotes equality in companies.
In application of the decree of January 2019 of the Professional Future Law on equality between Women and Men, Matra Electronic calculates its Index every year. The score obtained is 88/100 for the year 2020.
This result demonstrates our commitment to fight against all forms of discrimination, including those relating to the remuneration and promotions of our employees regardless of gender.
*Statistics 2020
For more than 10 years, women have represented only 29% of employees in the industrial sector. At Matra Electronic, women represent 37% of the workforce*, an insufficient proportion in order to achieve our ambitions of diversity.
Discover
video