With over 40 years of expertise in the design and manufacturing of high-tech electronic packages and sub-assemblies, we are committed to maintaining a high level of know-how in wire cabling and boards.
Wiring
From simple to complex harnesses with 3D shaping, our specialized operators master all wire cabling technologies, including overbraiding, on all types of assemblies. We carry out all the wiring tests according to your specifications.
In order to guarantee the level of proficiency that is adapted to all technologies in the workshops, Matra Électronique created its training school in 2010.
We work on many wiring types :
High density connectors
Specific wires : bus / quadrax / high frequency
On-site wiring
Overmoulding wires
Shield test & HF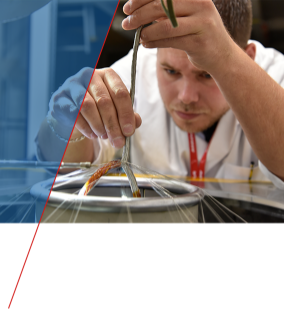 More than
10 000
harnesses produced per year
Electronic board manufacturing
Our four complete automated lines, including one dedicated to the space field, support the most traditional component boxes but also the most exotic one.
Our processes include screen printing, SMT transfer, vapor phase, cleaning and integration of cross components by soldering or selective wave, with or without lead.
In accordance with the standards required by our customers, we have all the processes necessary for production checks : X-ray checks, mobile probe Tests, AOI 3D online,
MSL & ESD requirements
Small and medium series lines
Mass production line
Dedicated structure to prototype
IPC Classes 2 & 3 Space