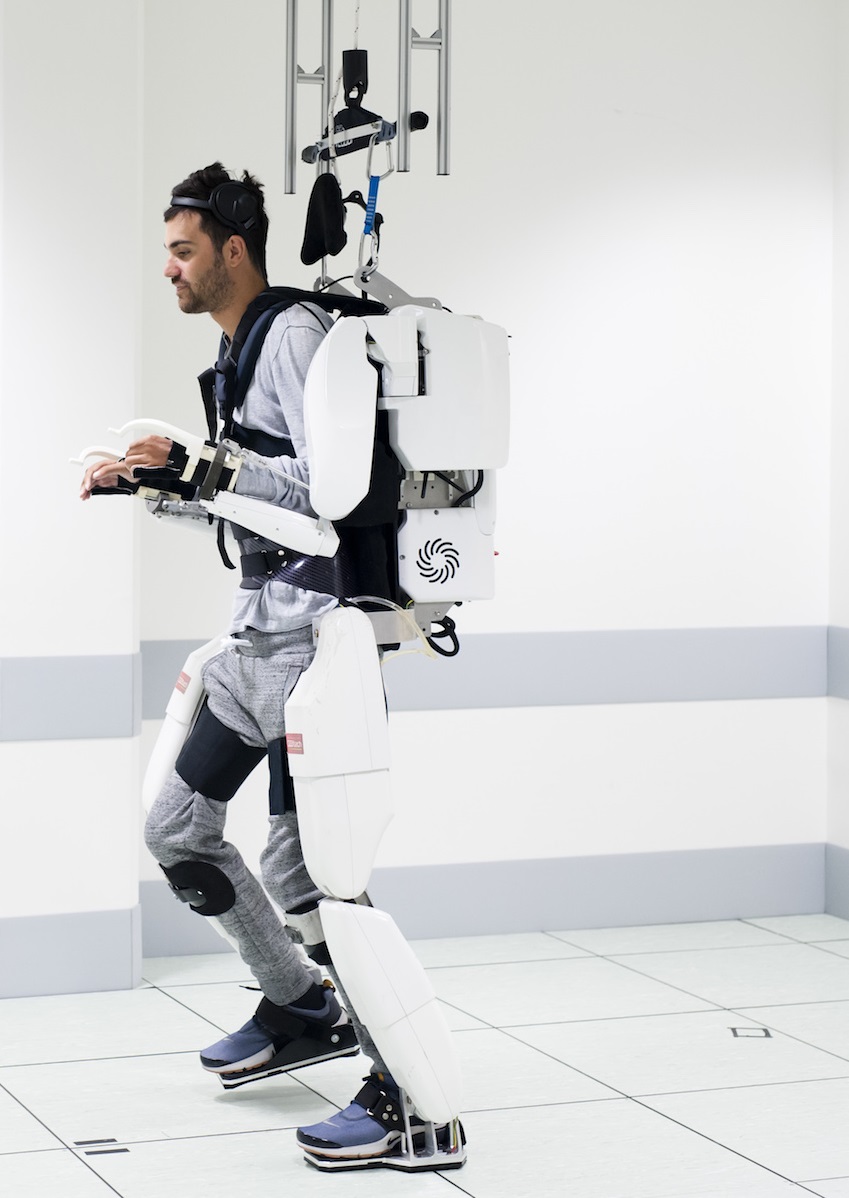 QUALITY AND KNOW-HOW AT THE SERVICE OF CEREBRAL IMPLANTS
The objective of Clinatec in this project is to enable people with severe motor disabilities, including quadriplegia, to regain greater autonomy using complex effectors such as the 4-limb EMY exoskeleton developed by the CEA. This control is carried out using the WIMAGINE® implantable device for measuring cerebral activity at the cortical level (ECoG) and specific real-time decoding algorithms also developed by the CEA.
Matra Électronique, an ISO 13485 certified company, has been mandated by the CEA for the integration of specific electronics in biomedical packaging. The devices are implanted between the skin and the dura mater above the sensorimotor cortex in place of a bone flap. The patient's movement intentions are captured by WIMAGINE® at the level of the motor cortex. Brain signals are amplified and digitized in the implant and then transmitted wirelessly to a signal processing chain which interprets commands for the effectors. The control of this command is visual since the patient can see the movements of the avatars or the exoskeleton in real time.
The clinical evaluation of this device is underway at Clinatec (CEA, CHU Grenoble Alpes) with several quadriplegic patients with the authorization of the regulatory authorities. This proof of concept of a neuroprosthesis with a large number of degrees of freedom allows new applications to be envisaged for use in patients' homes as part of their daily life.
The entire staff of Matra Électronique is proud to have contributed to the development of this neuroprosthesis, synonymous with hope for patients with severe motor disabilities.
Photo credit : CEA-Leti
In 2011, Clinatec, a CEA-Leti biomedical research center called on Matra Électronique to integrate specific electronic boards into biomedical packaging for the chronic implantable neuroprosthesis of its Brain Computer Interface (BCI) project. The clinical results published in October 2019 provide very encouraging first elements as to the possibility for quadriplegic patients to control complex effectors thanks to their brain activity.