Our core business is to manage the global life cycle of electronic equipment.
Based on your specifications, the company industrialises, manufactures, assembles and delivers fully tested electronic equipment.
In order to observe the target prices and deadlines, our Methods Department implements appropriate and optimal processes in the following technological fields: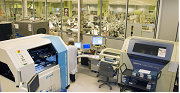 Chip-on-Board, Hybrid, Multi-Chip Module
Electrical harness
Electronic boards
Electronic equipment
Our Testing Department guarantees the quality and compliance of the manufactured equipment.

We own all means required to perform qualification sequences, ageing and full functional tests.
We have also developed generic test platforms which allow us to specify, design and produce test bench very quickly and at reasonable cost.
The entire production process is managed according to I ISO 9001 – EN 9100 – ISO 14001 – ISO 17025 quality standards.