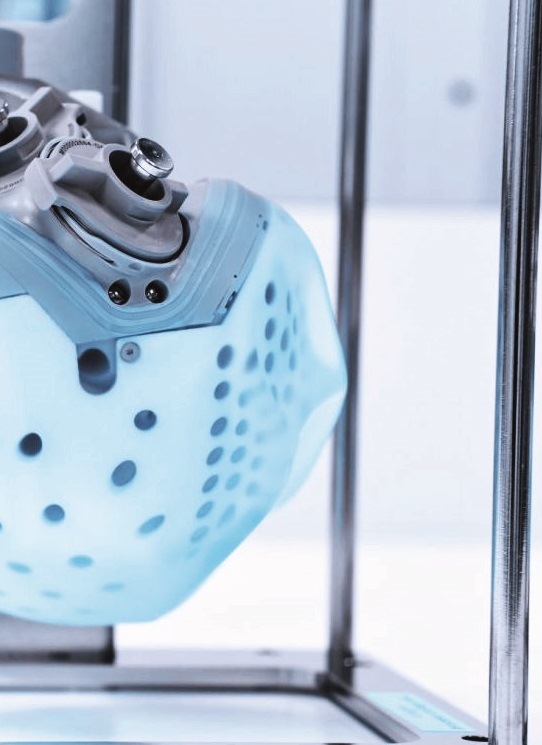 CARMAT, THE 1ST ARTIFICIAL HEART CO-DEVELOPED BY MATRA ELECTRONIQUE
After more than 15 years of research, design, prototyping and industrialization, the Carmat heart obtained European certification in December 2020. Its commercialization within the European Union is scheduled for 2021.
This bio-prosthesis, born from the invention of Doctor Carpentier and the industrial know-how of Matra Électronique, is composed of two ventricular cavities and a biomembrane which is activated by two small pumps. By mimicking the movement of the ventricular wall of a real human heart, it enables patients with end-stage heart failure to benefit from a "transplant bridge." It is not intended to replace a diseased heart for a lifetime, but to extend the life of patients until a transplant is available.
The participation of Matra Électronique, then a space and defense equipment supplier, highlighted the importance of industrial expertise and solid skills in electronics for the development of medical innovations. Since the Carmat adventure, Matra Électronique has contributed to other scientific innovations.
As our teams are familiar with ISO 13485 medical certification standards, we support the development and industrialization of all types of medical devices. Do not hesitate to entrust us with your research!
Did you know ? The name "Carmat" corresponds to the first three letters of Doctor Carpentier and Matra Électronique.
* Technical Center of Mechanical Industries
Photo credit : CARMAT
Thanks to its high expertise in cutting-edge electronics, Matra Électronique has been supporting CETIM* since 1991 in the development of Carmat artificial bio-prosthetic hearts.